Kerr Neilson, the CEO & managing director of Platinum Asset Management, recently published an excellent piece titled "Facts, Feelings and the Importance of Composition." The article is available on the company's website (link here, highly recommended).
Neilson writes about the importance of checking whether your "feelings" are backed by facts when investing. He also ask investors to consider how the weight of evidence compares with their strength of conviction in a stock (see the matrix below).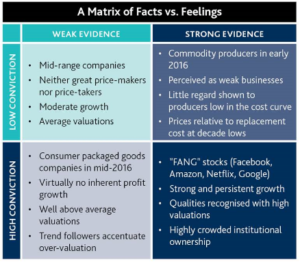 Platinum's investment team tries to eschew index-hugging (bottom right) and momentum investing (bottom left) in favour of a contrarian style which is augmented by solid quantitative analysis. As a result, they spend their time looking for opportunities where there is a wide divergence between "feelings" and the underlying evidence (top right).
Readers of Howard Marks' investment memos will likely recognise elements of this framework – namely, investors achieve superior investment results only when they are non-consensus and right.