Fascinating article in the SCMP this week on the early history and brand evolution of Vitasoy. The soy milk drinks company was founded in 1940 by Dr. Kwee Seong Lo as a way to fight malnutrition among Hong Kong's fast-growing and largely lactose intolerant immigrant population from Mainland China. According to the article, the business struggled in its first year and Lo was bankrupt by the time the Japanese invaded Hong Kong in 1941. Lo and his family then fled to Lingshan County and spent the next ~5 years slowly rebuilding the company before returning to Hong Kong (and achieving eventual success) after the war. 
Over the years, Vitasoy has become an iconic Hong Kong brand (one interviewee in the article referred to it as "childhood in a box") while also expanding beyond soy milk drinks. Today, the company's product range includes tofu, juices, coffee, teas and water. Their products are now stocked by stores and supermarkets in over 40 countries around the world. They also expanded early on into Mainland China, a region which now contributes nearly half of the group's revenue. It is therefore one of the relatively few Asian consumer brands to have successfully evolved from a domestic to a regional to an (arguably) global champion.
Vitasoy's high quality, compounder status has resulted in its shares being a long time holding of a number of value-oriented investment firms in the region including Arisaig Partners, First State Investments, Matthews International and Value Partners. In Mainland China, the company probably still has a long ramp ahead as it is exposed to several high-growth product categories. Success over time, however, has also resulted in increased competition and management is today more cautious in its overall outlook for the business. Furthermore, given the company's current valuation, the story of Vitasoy is probably more instructive as a case study than as a potential investment opportunity.
Just out of interest, I went back in time to find an investment thesis for the company's shares in its early innings. Here is Desmond Kinch of Overseas Asset Management writing about Vitasoy in early 2002 (I think the company had gone public only a few years earlier):
Vitasoy produces and markets the leading soya milk drink in Hong Kong which is the soft drink of choice for a large portion of Hong Kong's Chinese community. Vitasoy has a 50% share of the non-carbonated soft drinks market in Hong Kong. It is also expanding into China where it has recently built production facilities in Shanghai and Shenzhen. The China operations are currently loss-making as Vitasoy builds its distribution network around these major cities. Vitasoy can easily finance these expansion costs and short term losses as it still has no debt and about HK$200 million in cash on its balance sheet, while its Hong Kong business is highly cash generative. The losses resulting from international expansion obscure the true profitability of the business. Even so, Vitasoy's shares sell at a P/E of 9 and yield more than 6%.
Here is a quick snapshot of the company's operating results today vs. back in 2002/3: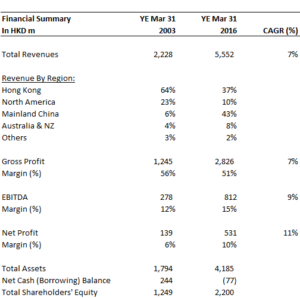 In 2002, Kinch wrote that Vitasoy was not even an isolated case of a cheap consumer brand in Asia. He also cited the example of Lotte Chilsung. As per his letter, "these market leaders usually earn high returns on capital invested and generate ample free cash flow, allowing them to grow their earnings per share at double digit rates without having to rely on external capital for expansion." Investors at that time could buy Vitasoy shares at an ~11% earnings yield, with those earnings growing at >10% a year. They obviously did pretty well.