Vinay Agarwal of Scottish Oriental gave an update to shareholders at the trust's AGM in December. The presentation can be viewed online here. For more about the trust, please see my original write up here. His update covers the evolution of both the trust as well as Asian markets over the last 20 years. It also includes commentary on how the team is positioning itself for the future and a number of interesting investment case studies.
Some highlights below – please note the graphics come directly from Scottish Oriental's presentation:
The last 20 years
The small cap investable universe in Asia has expanded ~6x and more countries in the region are now open (practically speaking) to investors.

The next 20 years
In the last 15 years, the trust's exposure to Hong Kong, Singapore and Korea has reduced, while exposure to India, Indonesia and the Philippines has increased. The charts below show the penetration and spend rates across key consumer categories in the former set of countries versus the latter set of countries (takeaway is that there is significant ramp ahead).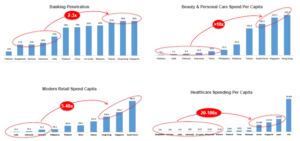 Recent portfolio changes
Here is a snapshot of the trust's current portfolio: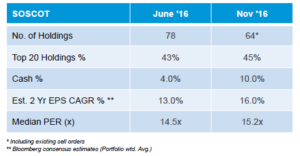 14 fewer holdings on a net basis – 21 companies sold (11 in Singapore and HK), 7 new additions (6 in India, Indonesia, Philippines and Vietnam)

Slightly higher cash levels vs. earlier in the year. Cash levels are transient but generally reflect the team's outlook on the market and valuations

Seeking higher growth (big businesses hiding in small market caps) while exiting value traps (businesses which will never become big)
Selected case studies
Delta Brac Housing Finance Corporation (Bangladesh)

JV between IFC, HDFC and three local sponsors

~20% market share of individual housing loans

~21% book value per share CAGR over last 10 years

Mitra Adiperkasa (Indonesia)

Leading operator of global food and fashion brands in ASEAN's largest consumer market

Attractive valuations + margins improving

PT Hero Supermarket (Indonesia)

High quality parent (Dairy Farm, Jardines)

Potentially big business hiding in a small market cap

Valuations much lower than regional peers (0.4x EV/Sales, 1x P/B)